.

Tenafly / Alpine Chemical Awareness Prevention
The Tenafly Chemical Awareness Prevention (CAP) Website
.
.
.
Please Follow Precautions with Wildlife
.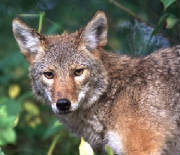 Coyotes are now common in this state ~ there are more than 3,000 living in New Jersey and have been sighted in 390 of the state's 566 municipalities. All sightings should be reported to the Alpine Police Department so that this information can be compiled and provided to the New Jersey Department of Fish & Wildlife.



According to the New Jersey Division of Fish & Wildlife, the following additional steps should be followed:

1- Never feed a coyote. Feeding coyotes puts pets and other residents in the neighborhood at risk.
2- Feeding cats outdoors can attract coyotes. The coyotes feed on the pet food and also prey on the cats.
3- Put garbage in tightly closed containers that cannot be tipped over.
4- Remove sources of water, especially in dry weather.
5- Bring pets in at night.
6- Put away bird feeders at night to avoid attracting rodents and other coyote prey.
7- Pick up fallen fruit and cover compost piles.
8- Parents should monitor their children, even in familiar surroundings, such as back yards.
9- Install motion-sensitive lighting around the house.
10- Clear brush and dense weeds from around dwellings to reduce protective cover for coyotes.
If you observe coyotes in the daytime that show no fear of humans or if a coyote attacks a person, immediately contact your local police
and the Division of Fish and Wildlife at 908-735-8793; outside of normal business hours call the DEP Hotline at 877-WARN-DEP.

Notice to Snow Removal Contractors - Pursuant to Borough Code 192-25; "No person, firm corporation, owner of property, employee, agent, contractor or other persons at any time shall place or plow snow or ice upon a public street or thoroughfare within the Borough from which snow has been plowed or removed by the Borough's snow removal equipment or personnel. Any violation of this provision shall be deemed to create a hazardous condition. Any person violating the provisions hereof shall be issued a summons."