.
.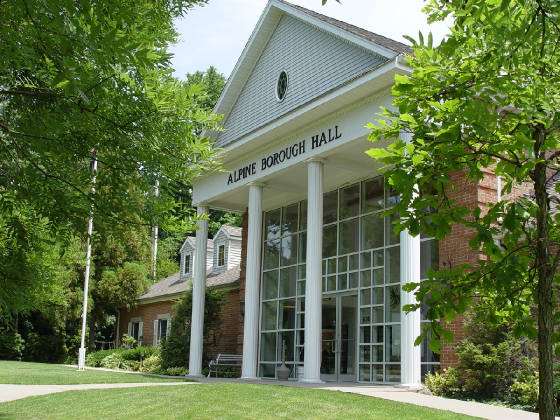 Borough of Alpine
100 Church Street
PO Box 1095
Alpine, New Jersey 07620-1095
Tel 201-784-2900
Fax 201-784-1407
.
Municipal Building Lobby Hours:
8:00am - 7:00pm Monday thru Friday
8:00am - 4:00pm Saturday
Closed Sunday & Holidays
.
Church Street Construction Notice (updated 7/22/2014 3:30pm)
**Paving has been re-scheduled for THURSDAY July 24th, 2014
Residents should expect travel delays and/or road closures during this time. Residents can park on Haring Lane if Church Street is closed and access to Borough Hall is required. ** Off-Site Parking: available on Haring Lane, Ellens Way, and the southerly extension of Church Street (south of Hillside Avenue). Please check the Borough website frequently for further information.
.
.
.
Palisades Interstate Parkway Resurfacing Project
Information regarding highway closures and traffic condtions can be found via the following URL:
Palisades Interstate Parkway Construction Information Link (URL)
.
.
.
Code of the Borough of Alpine
.