To protect our employees, Borough Hall offices are closed to all members of the public (including residents)
until further notice in accordance with COVID-19 mitigation directives. We ask
for your patience and understanding as this necessary precaution enables us to continue working for you.
Correspondence with Borough offices may be conducted by phone, email or mail.
Please visit the Business Offices Directory for contact information by department.
Mobile Testing
Thursday, June 18, 2020
Alpine/ Tenafly/ Cresskill
Please click this link to be redirected to our COVID-19 Updates & Resources page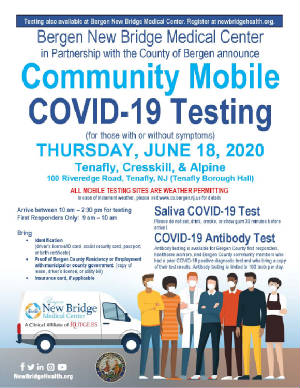 The Alpine Swim Club
Please see attached letter from the Recreation Sub-Committee of the Alpine Swim Club regarding closure for the 2020 season.
Thank you for your understanding. Please stay safe and well. We look forward to seeing you next year!
Alpine Swim Club 2020 Season Letter
Memorial Day Webpage
This year, in lieu of a parade and a formal ceremony as we adhere to COVID-19 guidance, we invite you to visit our Memorial Day webpage. Programs have been mailed to all PO Box addresses and extra copies will be available in the Borough Hall lobby. We wish you a safe and healthy weekend and look forward to hopefully being reunited in our traditional ceremony and observances in 2021.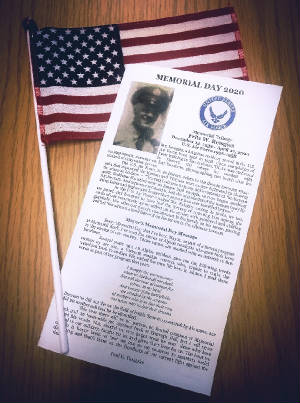 Click here to visit the 2020 Memorial Day Webpage
No in-person or cash payments will be accepted for 2nd quarter property taxes.
2nd Quarter property taxes are due May 1st. The grace period ends on May 11th at 4 p.m.
Payments can be made by mail or through online bill payment from your bank. Please be aware that payments initiated by your bank should be
scheduled in advance to allow sufficient time for processing and mailing. If you are mailing a check and prefer a receipted bill, please include the
bill and a stamped, self-addressed envelope with your payment. The back of the bill will be stamped and mailed back to you.
It is strongly recommended for residents who have not already done so to register for the
Alpine Emergency Alert System to receive emergency notifications and updates at the link provided below.
Click Here to Register for the Alpine Emergency Alert System
Please vist the COVID-19 Updates page for additional information, notifications and links regarding the Coronavirus:
Click Here for COVID-19 Updates & Resources
2020 National Census Day is April 1st!.
The Census is extremely important and we encourage all Alpine households to do their part ensuring an accurate count. Mailing of U.S.Census invitations began March 16th. Please visit the NJ Department of State 2020 Census webpage at the link below to learn more about how to submit your Census online or by their toll phone. You can also call the 2020 Census at 844-330-2020 if you have any questions. Please remember the U
.S.
Census
Bureau will never ask you to provide your
census
response via email. The
census
will not ask for your Social Security number or bank account information.
NJ Department of State 2020 Census link

Borough of Alpine
100 Church Street
PO Box 1095
Alpine, New Jersey 07620-1095
Tel 201-784-2900
Fax 201-784-1407
.
Municipal Building Lobby Hours:
8:00am - 7:00pm Monday thru Friday
8:00am - 4:00pm Saturday
Closed Sunday & Holidays
.
.
Borough of Alpine Resident Information Guide (pdf)
.
.